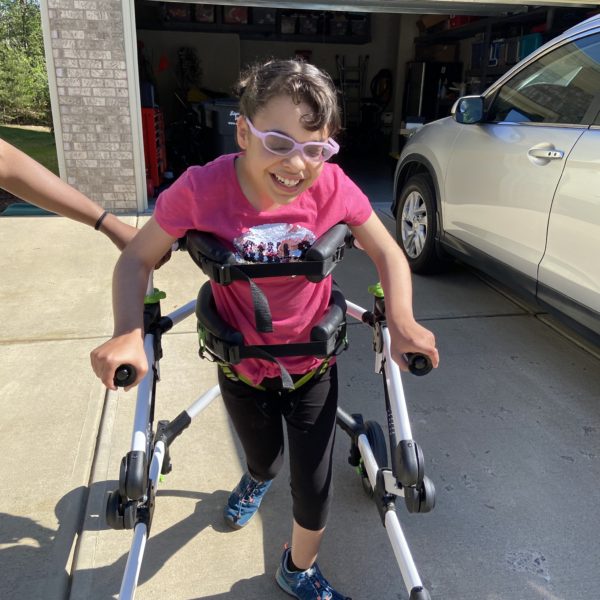 Jessie's birth was very difficult. Born 8 weeks premature, Jessie suffered a traumatic brain injury that left her with PVL (periventricular leukomalacia). This condition led to Jessie suffering severe seizures as an infant, followed by developmental delays, vision loss, and cerebral palsy. Life gave Jessie lemons, but she turned them into lemonade. From the age of 1 Jessie worked hard every day with lots of therapy and early intervention. She learned to sit up, roll around, walk with assistance, talk, and feed herself. Despite her many challenges, she has managed to find joy in her everyday life and share it with everyone she meets.


Jessie is now 14 years old and will be starting high school this year. In her special education program, she will learn many life skills in the school setting and in the community. To maximize her abilities and stay as healthy as possible, Jessie will need to improve her strength, range of motion, and balance. Pool therapy will help her make gains in these areas and improve her overall functioning. We have already attended one session with Darci and Auburn at BTI Rehab and we were amazed by their program. Not only did Jessie get great exercise during the one-hour session, but she had a great time.


Aquatic therapy has the potential to help improve Jessie's muscle tone, strength, and flexibility and we hope to continue this program with BTI Rehab for at least 6 months. Since their program is not covered by our health insurance, we are seeking funding through We Win.


This grant will allow us to continue weekly aquatic therapy with BTI Rehab. Due to the high cost of the program, we would not be able to pay out of pocket for weekly pool sessions. Improving Jessie's strength, balance, and flexibility will help her function better at home, at school, and in the community.