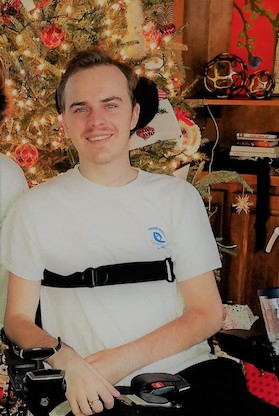 At the age of 19, I was a very active, full of energy, young man with a joy for life, ready to start my sophomore year at UNCW. But, on July 17, 2016, my life was changed forever in a neighborhood pool. I burst fractured my C6 vertebrae and was immediately paralyzed from the chest down. I spent 3 weeks at the Duke Medical Neuroscience ICU followed by 11 weeks at the Shepherd Center in Atlanta, GA.
Transitioning back home has been challenging as I attempt to find more aggressive physical therapies in the Raleigh area like I received at Shepherd. I was lucky enough to find the Steps for Recovery in Cary, NC and will be there, getting ready to go back to school when I'm strong enough to return.
Recovering from a spinal cord injury is not easy; it takes strong commitment, patience, and financial resources. Even with health insurance, there are so many expenses to consider including accessible transportation, access to specialized therapies/technologies, home modifications, durable medical equipment, medical supplies and caregiver expenses. This grant will help so much for my recovery.