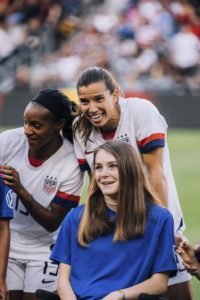 McKenna is 15 years old, a rising Junior in High School. Last summer, 6-25-2018, she was in a Jet Ski accident and broke her neck resulting in a C7 Spinal Cord Injury paralyzing her from the Chest down. It's been a year now and she has worked and worked to get stronger and be active. She has regained some movement in her hands, but does not have grip strength. At the beginning of June, she started Therapy at Race to Walk in Mooresville NC 2xs a week. Since then she has regained sensation (not true touch, but definitely sensation) in her trunk area and is sparking back some of her core muscles. She has not regained any movement in her legs or feet, however, she definitely has seen improvement in sensations and some core activation since she's started activity-based therapy at Race to Walk.

Mckenna was an elite soccer player playing for Carolina Rapids ECNL team, now Charlotte Independence. She has been playing soccer since she was 5 years old and was definitely planning on playing in college. She played and trained 5 days a week at the highest level of soccer. She was involved in several different teams to better her game. Mckenna was …is…. extremely athletic and loves the outdoors and staying active. This accident obviously derailed her life plans as well as being extremely difficult for a young teenager to deal with.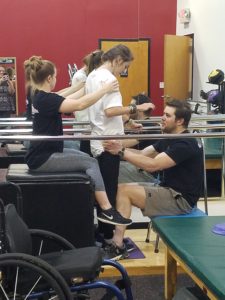 Mckenna has been very active in her recovery bringing awareness to our Charlotte community. She has never slowed down despite her injury. She went to school as soon as she left Rehab from her accident. She continues therapy. She plays Quad Rugby, does adaptive waterskiing and snow skiing, she went to Shepherd Center's Adaptive camp in Alabama and signed up for every sport they had. She assists now with Charlotte INdepdence's Inclusion Soccer program teaching soccer skills to physically and mentally disabled kids and teens. She also internships with Charlotte INdependences' semi-pro team in order to learn about everything soccer without being able to play. Mckenna has inspired the whole community with the way she tackles life despite her 24/7 nerve pain (which is VERY bad for her) and learning to navigate in her wheelchair. She was nominated as the "2019 She Believes Hero" by the USWNT (US Woman's National Team) in February and spent time with the team in March in Nashville and again in April in LA where Tobin Heath chose Mckenna to wear her name on her Jersey. All of this within just the first year of her injury, which is a high-level injury with so many limitations.
As parents, we are doing everything we can to help her get stronger and give her the mental fortitude to not let this injury defeat her. She is our quiet warrior because she is a very reserved girl…but her actions speak volumes. This is how she was on the soccer field as well. Quiet off the field but so strong on the field. She is such a hard worker at everything she does and we are so very proud of her. So much has been taken away at her young age and she suffers from her loss.