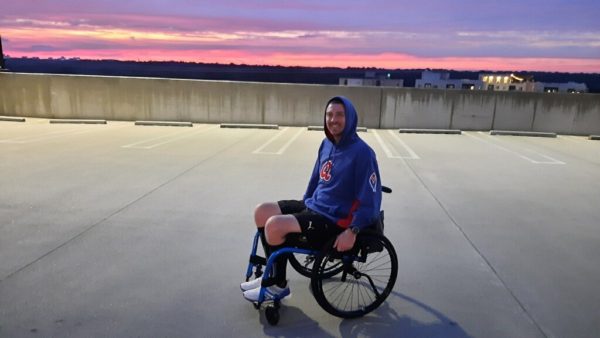 On the night of March 5, 2021, Travis suffered a tragic fall and fractured his C7-T1 vertebrae. The fracture also caused a dislocation that damaged his spinal cord. He underwent emergency surgery to fuse C7 and T1 but had lost all feeling and sensation below his chest. In addition to this, he suffered significant muscle and tendon tears in his right shoulder.
Travis was flown down to the Shepherd Center in Atlanta, Ga on March 11, 2021 to begin his inpatient road to recovery at one of the best spinal rehabilitation programs in the country. Travis was moved to the day program (outpatient) at Shepherd rehab on May 10, 2021. In this program, he will have 6 hours of therapy, 5 days of week, He hopes to stay here 4-6 weeks. His insurance will only cover 30 days of outpatient therapy. When he gets home, we will pay out of pocket for continued therapy at Back to Independence Rehab in Charlotte, NC. One of his favorite things to do in therapy is the e-stim bike and we hope to be able to purchase one for him once he gets home at the end of June. We know it is so beneficial for his recovery and keeping his leg muscles strong.
A little bit about Travis: he is a genuinely kind, caring person who never hesitates to lend a helping hand. Those of us who know him are well-accustomed to the sound of his laugh and the way he brightens up a room. He is one of those rare individuals who can have fun doing just about anything, and as a result will be laughing most of the time while doing it. This quality is 110% contagious-we are all truly blessed to have Travis in our lives, he has probably added minutes, hours, and possibly even years to our life spans by letting us in on the fun. When he is not laughing (or probably is), he loves to play sports, watch sports, and enjoy the outdoors. He is an avid runner, snowboarder, biker, and Frisbee player who loves staying active. Travis graduated from Virginia Tech like his sister and parents before him=he is as natural-born a Hokie fan as they come. In fact, the only time you will find Travis quiet is after he has lost his voice from cheering his Hokies on, no matter the sport.
Travis is an onsite project manager and plans to go back to work as soon as possible. His goal is by August or September. He loves his job and his work family.
It is incredibly tough to see someone as active as Travis deal with these types of injuries. We are all hoping and praying that he can get back to doing the things he loves as quickly as possible.